Men's Fashion Blazer
12 July 2019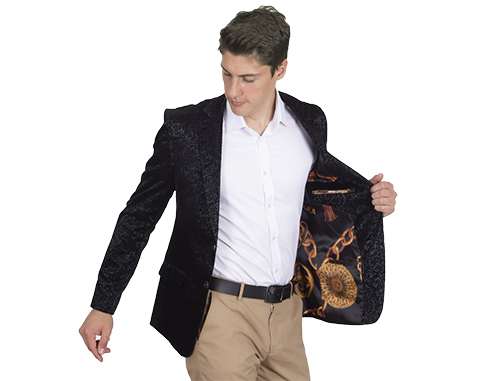 Blazers are the pieces that are in almost every man's wardrobe and can be preferred both for a special night and for achieving sporting elegance. Fashion blazers can have classic and official appearance according to other parts of the combination. Therefore, men should be careful about which parts they will combine with when choosing a blazer. It is possible to say that the blazer models that men often prefer in their daily life and business life reflect the character of the people. A person needs to choose very stylish clothes to create a pleasant image of the person in front of them. Especially the individuals who come to the forefront with their outer view need to pay more attention to this issue. So, what should men take into account when choosing a blazer? Here are their answers…
Harmony of Blazer, Trousers, and Shoes
In order to get a stylish look, the other pieces that you will choose and combine with the blazer need to be in harmony with each other. If the blazer you use in your combination is incompatible with your trousers, you may not get the effect you expect from your combination. Therefore, you should also show the importance and care you show in your blazer when choosing trousers and shoes. You should carefully pull each piece from your shoes to the shirt you will wear inside your blazer. A Beaver-style shoe for a sports blazer won't look too pretty. So, if your blazer is a sport, you can get a stylish look by opting for sport and a daily pair of shoes and trousers.
Outfit Selection
The most important issue that should not be overlooked in blazer combinations is what time of day to wear your fashion blazer. Because there are serious differences between day and night wear. Dark and stylish blazer can be preferred when going to an invitation at night. When going to a place during daylight hours, it is necessary to choose the colors in the jacket where daylight will not disappear.
You should choose blazer that match your age
Mens fashion blazers preferred by young individuals and blazer preferred by older individuals are different from each other. For this reason, you can have a much more stylish look by opting for stylish blazer for your age. For example, for middle-aged individuals, more classic fit jackets may be appropriate, while for young individuals, narrow fit jackets may be appropriate.
Choose Blazers That Fit Your Body Structure
Today, there are blazer models in many different segments. You should choose from these different and stylish blazer models that are best suited to your own body type. For example, if you have a very structured body, you can choose slim fit blazer to bring your body to the forefront.
Harmony of Colors
You should note the color harmony between your preferred blazer and other pieces in your combination. For example, you should not use contrasting and vivid colors, such as orange and green. Using these colors together will prevent you from getting a stylish image.