How To Design A Printed Shirt?
24 March 2021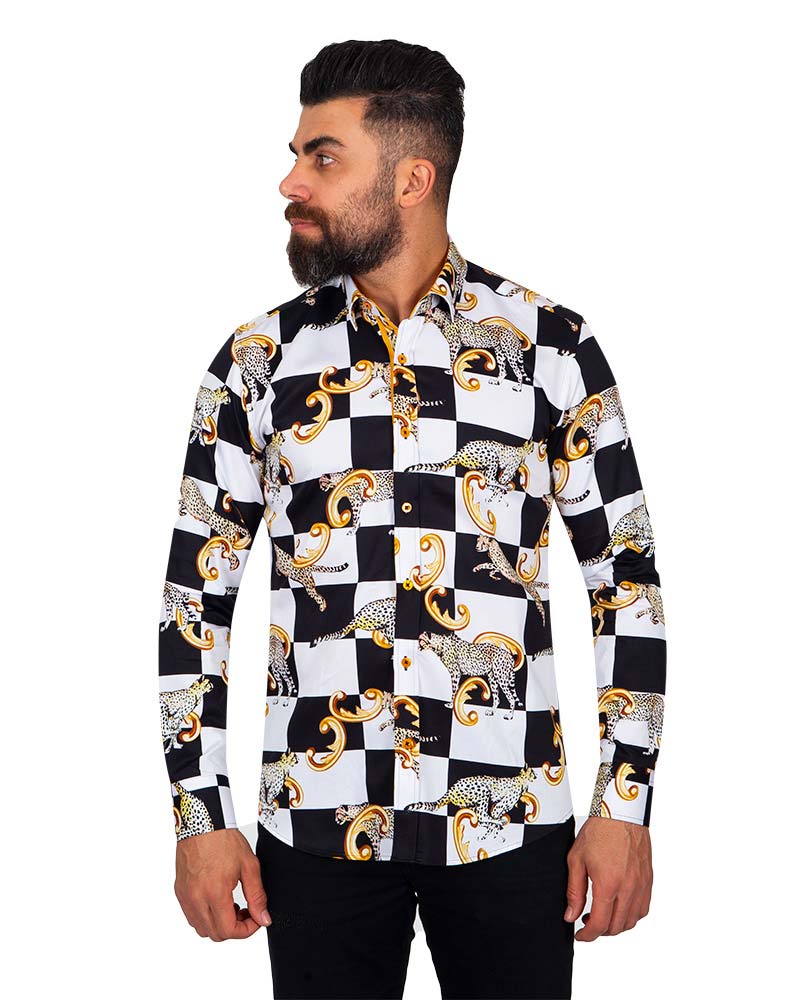 How To Design A
?
Makrom men's & women's Fashion, which offers a wide range of products from patterned shirt models to shirts, suits to Coats models, gives direction to menswear fashion with its unique designs. Acclaimed for its sewing quality and first-class fabric material, Makrom men's & women's Fashion complements your combinations both in your everyday life and in stylish organizations with its shirt varieties. Sports and classic shirts that appeal to all tastes offer comfort throughout the day.
Straight, striped, checkered, or patterned men's shirt models increase your alternatives. Classic style patterned men's shirts, suits or fabric pants increase your elegance. Easily combined colors such as white, light blue, cream, or light pink make your work easier. Patterned men's shirt models, which are also produced in sports style, fit perfectly with jeans or sports pants. Patterned shirts, which offer many color options such as black, white, navy, burgundy, green, allow you to show your style every period of the green. Also floral patterned men's shirts, summer-appropriate Hawaiian patterned shirts fit perfectly with shorts.
Brit collar, small collar, semi-Italian collar, and button collar printed shirt designs expand your area of preference. You can review men's shirt models with dominant collar patterns to reveal your different styles. You can wear printed shirt models alone in the summer, along with blazer jackets that help you stay warm in the winter. You can also easily keep up with casual environments by completing your solid blazer jacket and sweatpants with a patterned shirt in harmonious colors.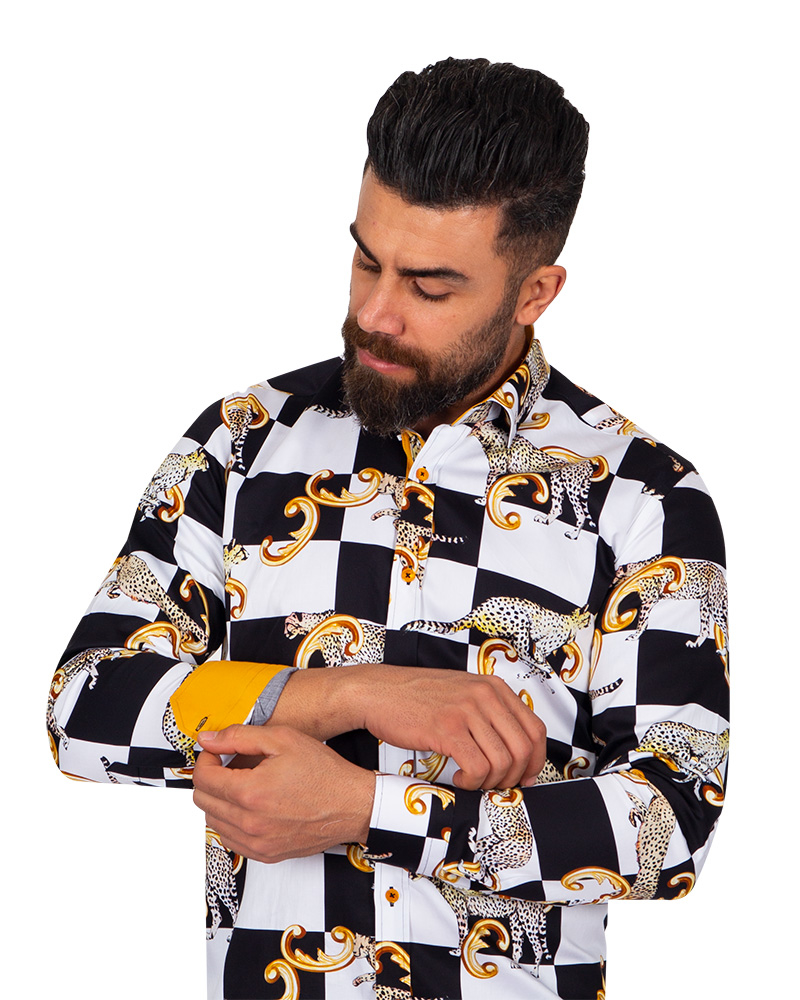 Short sleeve and long sleeve printed shirt prices
Printed men's shirt models become one of the most basic clothes of wardrobes with long sleeve or short sleeve shirt designs. Short sleeve printed shirts offer maximum comfort on hot days. You can wear your short sleeve sports-style printed shirt over a solid color bike collar shirt and emphasize your sportswear style.
You can add an ordinary combination navy blue patterned short-sleeved shirt consisting of a blue basic shirt and jeans and change the mood of your combination. Long sleeve printed shirts are appreciated with slim fit or regular fit cuts. If you have a sporty body, printed slim fit shirt models are the ideal choices. You can combine your Slim-fit patterned shirt with slim-fit sports pants. On cold days, you can wear a single-color sports jacket or knitwear. Regular fit shirts, on the other hand, attract attention with their comfortable cuts. Made using natural fabric material, men's shirt models with Makrom men's & women's Fashion patterns allow you to move freely throughout the day and offer comfort.
The fabric texture with a cotton blend allows your skin to breathe at any time, thus minimizing the feeling of sweating. Makrom men's & women's Fashion printed shirt models adapt to every size with a wide range of sizes. Makrom men's & women's Fashion printed shirt varieties, which help you to showcase your style in any environment and increase your elegance, are waiting for you with the most affordable price alternatives.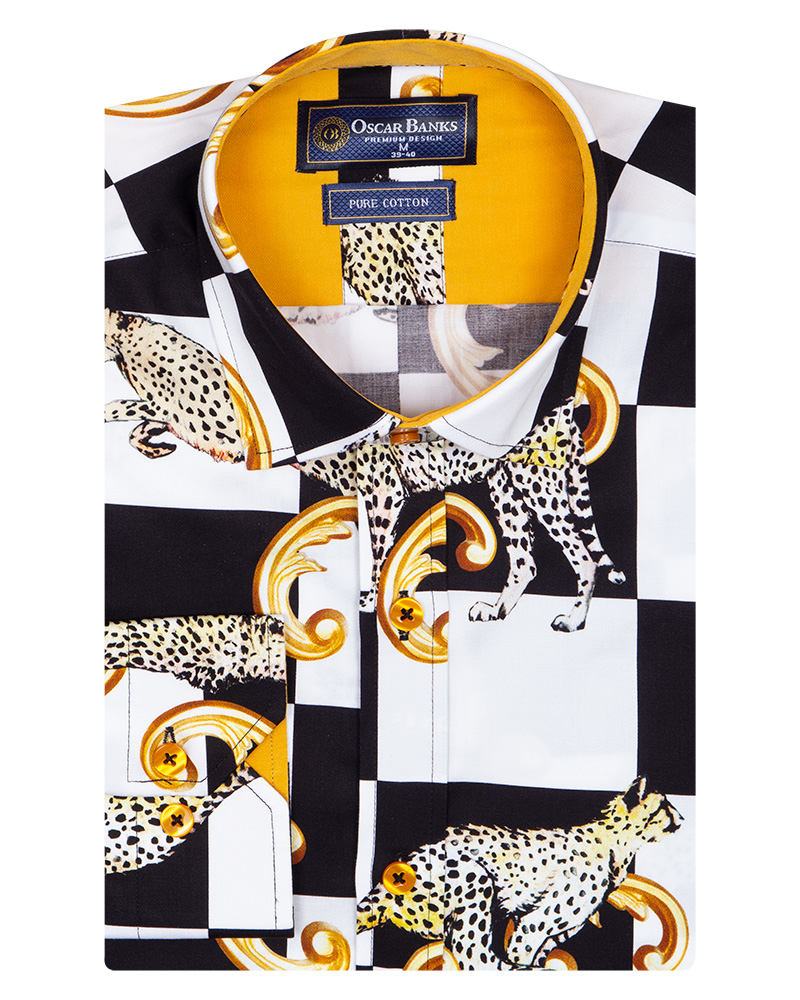 How To Wash Printed Shirt Models?
We use many ways to express ourselves. We choose our words carefully, we want our professions to express us, we want what we watch to express a part of us, that is, our interests. Our clothes are one of them. Shirts that we usually think are preferred among young people, whose age scale has expanded, are much more in our lives today. Not only does it offer ease of clothing, but it is also one of the ways we express ourselves with the pressures on them. Sometimes the bands we love, the lyrics, the pictures can show themselves on our shirts. We also want to use shirts that we use especially fondly for a long time. There are some points that we have to follow for that, too. One of them is the washing of the shirt. In this article, we will also talk about what we should pay attention to when washing printed shirts.
Instructions For Washing Printed Shirts
Make sure your shirt is dirty.

Separate your printed shirts, which are colored and white.

Separate difficult spots and light spots.

Read the washing instructions on the label of your shirt.

Adjust your machine to the degree written in the washing instructions and choose the appropriate detergent for your shirt. For example, use the detergent used for white laundry in whites.

Don't forget to flip your shirt over without throwing it into the machine.

If it is a stain that requires pre-washing, you can also soak your shirt in water before or perform it with the pre-washing setting of your machine.

After washing, proceed to the drying stage.

You should dry your laundry immediately after washing. Hang your shirts by the shoulders or use a tumble dryer.

After drying, you can use your shirt.
Most Stylish Printed Shirt Models
Printed and long-sleeved shirt models, which are one of the indispensable menswear options of cold and rainy months, are preferred by many men today because they allow a large number of combo options.
Makrom men's & women's Fashion can also have many different models of long-sleeved shirts well below market prices. You can create your combinations with long-sleeved shirt types that often enter special discounts and sign your signature under the most popular combinations wherever you go. If you are interested in the long-sleeved shirt models offered by Makrom men's & women's fashion, we can tell you about the straight and classic shirt models in the first place.